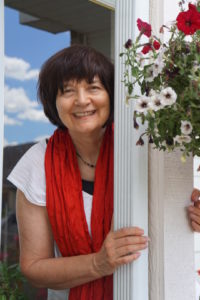 FAITH BASED COUNSELOR

Offering: INDIVIDUAL, MARITAL, or FAMILY THERAPY
Thank you for taking the time to look at my web site. You have come to the right place if you are experiencing difficult situations in your life or in the life of someone you love. Life is often difficult. Yet, in these difficult places there are choices we can make that open up to us more peace, dissolve conflicts with understanding, and lead to genuine healing. This is where I can step into your life with over twenty years of experience in professional, faith based Christian counseling.
I begin our sessions by carefully listening to you. I offer my insights into your life as you are ready. It is important for me to progress at the pace you are comfortable, so you do not get overwhelmed or frustrated. Together we develop a plan of relief, healing or action. I value honest, up front communication from my clients. Since it is sometimes easier to give written feedback, I have available a suggestion form that my clients are welcomed to use.
I believe that everyone is loved by God and has a unique call on their life. However it is seldom easy to find our place of living life to the potential for which we were created. That is because we live in a world that is broken and we are part of this broken humanity. We need God's truth, light and love to shine on us and remove the shadows that block us. We are all in this together and we need each other. It is never shameful to ask for help.
A professional strength I have acquired is to sensitively yet quickly find the roots of the issues you bring into the counseling hour. Often times we discover that the problem you now have began earlier in your life when you never experienced the love and support you needed to safely get through the difficulty. Current circumstances could be triggering you to respond in a fearful or angry manner. The good news is as we work on bringing peace to the current issue, you ( or you and your mate) will be healing from the inside out and becoming a more mature, loving person.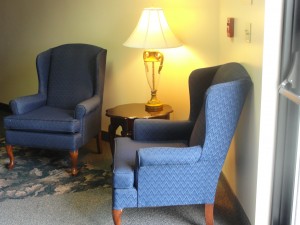 My office is located north of Angola in Fairview Missionary church. I am so grateful to be privileged to use the fine facilities of this generous place. Since I am in private practice, I answer most of my phone calls or e-mails personally to answer your questions and schedule your appointments.
When your day of appointment arrives, enter through the Fairview carport entrance. To the immediate right is the receptionist area, and you will be guided from there. Please arrive 30 minutes early for your first appointment so you have plenty of time to complete the Q-Pass which gives you the opportunity to quickly address key areas in your life that are stressful or of concern. A PRIVATE ENTRANCE IS AVAILABLE IF YOU PREFER.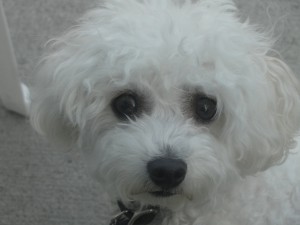 My therapy dog, Alea Peppermint sometimes comes with me to counseling.  She is hypo allergenic so most people who are allergic to dogs are not allergic to Peppermint. Her breed is Bichon Frise. Peppermint knows some tricks she loves to perform!
Jan
---
Angola Indiana Counseling
Counseling in Angola Indiana
Angola Indiana Therapy
Therapy in Angola Indiana
Counseling in Dekalb County
Fremont Indiana Counseling
Counseling in Steuben County
Steuben County Counseling
Lagrange County Counseling
Counseling North West Ohio
Counseling Southeast Michigan